Salads and Sides
Now on to some slightly more advanced recipes that will begin to show the many ways that Peeps can be used.
Crunchy Peeps Salad
Ingredients:
15 Assorted Peeps
1/2 head of cabbage
1 package ramen noodles
1/2 cup vegetable oil
3 tbsp. sugar
3 tbsp. red wine vinegar

Coarsely chop the cabbage and crush the noodles
Toss together Peeps, cabbage, and noodles
Mix the ramen season packet, oil, sugar and vinegar together
Pour liquid mixture into salad, toss evenly, and serve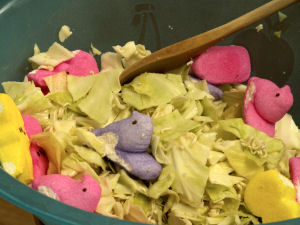 Peeps Salad is a tangy and crunchy side dish that will go with just about anything, but it is sure to please anyone with its good mix of sweet Peeps, crunchy ramen noodles, and sour vinegar. For added delight, use a variety of Peeps colors and shapes to make the salad visually appealing.
Peeps Cornbread
Ingredients:
6-8 Peeps chicks
1 1/2 cups cornmeal
2 cups all-purpose flour
1 tbsp. baking powder
1 tsp. salt
1/2 cup sugar
2 eggs
1/2 cup vegetable oil

Preheat oven to 375° F
Mix flour, baking powder, corn meal, salt, and sugar in a large mixing bowl
In a separate bowl, combine milk, eggs, and oil
Make a well in the dry mixture, then pour in liquid mixture. Stir until just moist.
Fold Peeps into the batter, and pour batter into a greased pan
Bake in oven for 10 minutes
Cover pan with aluminum foil to keep Peeps from burning. Cook for an additional 20 to 25 minutes or until toothpick inserted into center of bread comes out clean.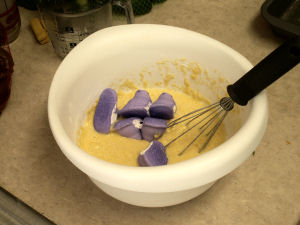 Cornbread can never be too sweet, as this recipe shows! Be sure to cover the pan with foil after a few minutes. Otherwise your Peeps will be burnt to a crisp by the time you remove them from the oven.
PeepSmoothies
Ingredients:
8 ice cubes
About 3/4 of a can of frozen juice (8 oz total)
1 cup water
1 cup milk
1/4 tsp. vanilla
Half a row of Peeps, any variety

Place all ingredients in a blender
Blend until smooth. Makes about three servings.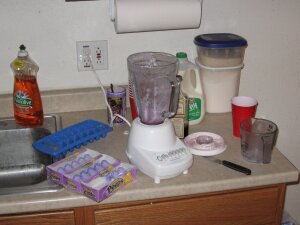 PeepSmothies are the best for a quick, deliciously cool drink. Select your frozen juice and Peeps carefully to coordinate colors. For example, use Peeps Hearts together with frozen Fruit Punch concentrate. Also note that you should use half of a "row" of peeps, e.g. two to three chicks since there are five in a single row. Happy blending!
"Peeps-on-the-Lawn" Dessert Salad
Ingredients:
Peeps
1 5-oz package instant Cheesecake flavor pudding mix
1 cup milk
1 12-oz container whipped topping
5 Granny Smith apples
5 Snickers bars
Small chocolate crunchy Easter Egg candies
Green food coloring

Make instant pudding using the milk. Mix in with whipped topping.
Core, peel, and dice apples. Add to mixture.
Dice slightly chilled Snickers bars, add to pudding mixture
Use several drops of food coloring to turn mixture a light green color
Pour mixture into a large pan
Refrigerate until chilled
Just before serving, arrange Peeps chicks and bunnies on top of the green "grass". Drop in assorted little egg candies to complete the decoration.
This super-rich dessert salad is a real treat, and it looks great!. I made it for a party this year using some leftover Peeps from Easter. Unfortunately, I forgot to take pictures. Trust me, this is a fun one that everyone will enjoy, and it's very decorative.
Finally, we move on to recipes that will be the highlight of your evening dinner party, with Peeps right at the center.
Next: Main Dishes